Wind farm builder donates to Victorian Labor Party as $2b project awaits green light
20th April, 2021
By Michael Fowler, The Age
Two companies awaiting state approval to build Australia's biggest wind farm donated money to the Victorian Labor Party last month, following years of court battles and lobbying the state to sign off on its $2 billion, 17,000-hectare project.
German-backed business WestWind Energy submitted its final amended planning application to the Victorian government in January in the hope of starting construction in Rokewood, 130 kilometres west of Melbourne, later this year.
https://e.infogr.am/1p1rpgzg3nndrlumd390502wx2b63qm5qk1?live?parent_url=https%3A%2F%2Fwww.theage.com.au%2Fpolitics%2Fvictoria%2Fwind-farm-builder-donates-to-victorian-labor-party-as-project-awaits-green-light-20210420-p57krn.html&src=embed#async_embed
The latest plan to build the Golden Plains Wind Farm, which will be capable of powering 400,000 homes, includes a proposal to build 215 wind turbines, more than the 181 turbines recommended by the government when it first approved the project in December 2018.
It also hopes to increase the diameter of the turbines from 150 metres to 165 metres, with a total tower height of 230 metres.
Since submitting the proposal and while Planning Minister Richard Wynne considers it, WestWind donated $1320 to the Victorian Labor Party on March 10 via a Labor fundraising dinner.
The event was attended by Energy, Environment and Climate Change Minister Lily D'Ambrosio, who oversees Victoria's renewable energy projects, and Labor MP Michaela Settle, whose electorate neighbours the wind farm site.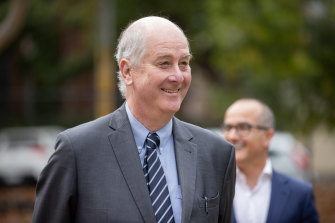 Under Victoria's political donation laws, an entity can donate a maximum of $4000 every four years and every donation above $1000 must be disclosed.
Last Wednesday, the Victorian donations register showed a second donation by WestWind of $750. By Thursday, the donation had been removed. A spokeswoman said the original declaration was an error.
The company also donated $1200 to the Victorian Labor Party prior to the November 2018 election, shortly before the wind farm was initially approved. In total, WestWind has donated at least $2520 in the last three years.
Keppel Prince Engineering Pty Ltd, a Portland-based construction company that is the only manufacturer of wind turbines in Victoria and hopes to provide them for the Golden Plains project, also donated $1320 to the Victorian Labor Party via the March 10 fundraising dinner.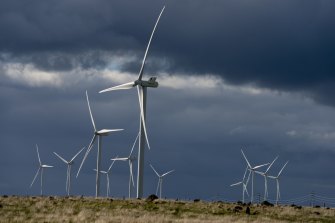 Local farmer Hamish Cumming has led three court challenges against WestWind over the project since 2019 but his campaign was ultimately rejected in the Court of Appeal last November.
The cases scrutinised the planning approval process and heard that Rachael Joiner, a senior employee within Victoria's Department of Environment, Land, Water and Planning until 2017, represented WestWind as it lobbied the government in 2018.
Planning Minister Richard Wynne approved the wind farm with a non-binding recommendation that it be reduced from 218 turbines to 181 in December 2018, in line with advice from a government-commissioned independent panel. It came one month after a meeting between Ms Joiner and the government.
Han Aulby, executive director of the independent Centre for Public Integrity, said planning decisions should be made without any risk of undue influence from lobbying or political donations.
"NSW has an Independent Planning Commission, which means major planning approvals are made by experts away from ministerial offices. Victoria should adopt a similar approach," Ms Aulby said.
"Victoria should also improve transparency of political donations, make ministerial diaries accessible and close the revolving door between government and industry."
In a statement, a WestWind spokeswoman said its $1320 donation was to Ms Settle, the Labor MP, "as she and the Labor Party have consistently supported policies that have allowed Victoria's renewable energy industry to grow strongly and create new jobs".
"Our donations to Michaela Settle MP have nothing to do with any planning applications. She has no role in the planning process," the spokeswoman said.
Lawyer Dominica Tannock, who represented Mr Cumming in court against WestWind last year, wrote to Mr Wynne in February arguing WestWind's latest planning amendment was a "fundamentally different project to that for which you granted planning approval in December 2018".
She called for the government to refer the proposal to an independent panel because, she said, there was no way it could fairly assess the proposal in light of WestWind's donations.
"There is a different configuration of turbines, the environmental impacts are now entirely different. The Planning Department must seek external advice," Ms Tannock said.
Ms Tannock said she was critical of WestWind's donations.
"Why did WestWind make donations to the government when it did? The question needs to be asked: is it trying to influence the Minister's decision?"
A spokeswoman for Mr Wynne refused to answer questions on the donations, stating they were made to the Labor Party and were a matter for the party.
She said the government made no apologies for backing renewable energy and planning decisions were subject to independent advice.
"Any suggestion otherwise is wrong," the spokeswoman said.
Keppel Prince general manager Dan McKinna said his company had not signed a contract but following previous conversations with WestWind, he was hopeful Golden Plains Wind Farm would contract Keppel Prince.
However, Mr McKinna denied his company's $1320 donation to the Victorian Labour Party was in relation to the Golden Plains project.
He said the March 10 dinner was an important opportunity after coronavirus lockdowns to network with industry figures and hear from the relevant minister at a time when Victoria was investing heavily in renewable energy.
The largest operating wind farm in Victoria, at Macarthur, has 140 turbines that are up to 140 metres high, compared to the proposed 230-metre tall turbines at Golden Plains.