Portland rejoices as southern right whale blows in with her new calf
24th June, 2021
By Tony Wright, The Age
Source; https://www.theage.com.au/national/victoria/portland-rejoices-as-southern-right-whale-blows-in-with-her-new-calf
Whale-watching enthusiasts who line the cliffs around Portland, in south-west Victoria, waiting each winter for the return of rare southern right whales, are rejoicing.
The first southern right whale calf known to be born in Victoria this year appeared with its mother just days ago, close to the city's harbour.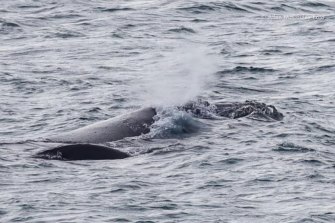 The mother and newborn calf lolled about in the bay, drawing local and tourist photographers to Portland's whale-watching lookout.
Mandy Watson, Natural Environment Program Officer at the Department of Environment, Land, Water and Planning, issued a statement declaring "our researchers have confirmed the sighting thanks to the photographs".
"The female whale was last seen headed east [along the coast] – a good sign that she and her calf will remain in the local area," Ms Watson said.
A Portland fisherman, photographer and keen observer of the ocean and its inhabitants, Bob McPherson, said the mother and calf had probably moved about 50 kilometres around the coast to waters off Yambuk.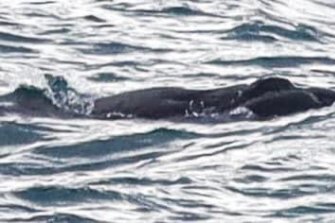 "They often do that, and then come back to Portland," he said.
Prolific Portland wildlife and seascape photographer Allen McCauley said the mother and calf were about 500 metres off the city's cliffs, and at first he didn't realise the calf was there at all.Advertisement
"It was pretty hard to spot, but it appears as a dark shape next to its mother in some of the photographs," he said.
Southern right whales were hunted to near extinction in the 19th century, and many were harpooned by whaling crews based at Portland, Port Fairy and Warrnambool from the early 1830s.
They were called "right whales" because they had the misfortune of moving relatively slowly, floating when killed and containing vast quantities of oil within their blubber, valued highly in the 19th century for lamps, lubricating fine instruments and making soap.
They also filtered food through baleen, known as whalebone, which was used for corset stays, buggy whips and collar stiffening, among other purposes.
They remain endangered on the Victorian Flora and Fauna Threatened Species List. The south-eastern Australian population is thought to comprise fewer than 300 individuals.
RELATED ARTICLE
In recent years, with the bloody business of whaling no more than a memory from generations ago, southern right whales have taken to returning during the winter months to their old mating and birthing grounds, including at Portland and Warrnambool. About a dozen congregated around Portland during the winter of 2020.
Humpback whales and pods of orcas, or killer whales, are also common sights in the waters around Portland, and blue whales – the largest creatures on Earth – are occasionally spotted in the far distance.
Ms Watson asked that anyone spotting a whale visit https://www.swifft.net.au/whaleface to report the sighting. Photos, date, time, location, a description of the whales and their behaviour, and the spotter's contact details should be included.