Tuesday 16 July, 2019
Graham Lloyd- Environment Editor-Front page of The Australian,
Environmental crusader Bob Brown has exposed a conspiracy of silence by the Greens and their supporters on the true cost and ­unintended consequences of ­renewable power.
MORE: Wind farm 'new Franklin Dam' | Crusader Brown turns against wind farm
Dr Brown yesterday stood by his comments slamming a proposed $1.6 billion Robbins Island wind farm in Tasmania's northwest. The response from the Greens party and environment groups to Dr Brown's outburst was as quiet as a wind rotor on a dead-calm day.
The Greens and Australian Conservation Foundation refused to criticise either Dr Brown or the project, slated to be one of the ­biggest wind farms in the world if it goes ahead.
In the past, federal Greens leader Richard Di Natale has likened investigating complaints about wind farms and noise to taking ­seriously alien abductions.
He refused to support the appointment of a wind farm commissioner to handle public com­plaints. His staff yesterday said he did not wish to comment on his former leader's protest.
A spokesman for the ACF said "we don't have a view" when asked about Dr Brown's objections to the project. "We don't know enough about it," he said.
The ACF "can't say definitely either way" if it had ever objected to a wind farm development.
Political adversaries criticised Dr Brown for displaying not-in-my-backyard (NIMBY) hypocrisy in warning against the Robbins ­Island plan, but bird lovers who have been fighting wind farm ­developments across Australia for a decade would like the anti-­development, anti-coal powerhouse to extend his concerns beyond Tasmania. When Hamish Cumming tried to interest Dr Brown's foundation in the plight of Victoria's endangered brolgas, which he says are threatened by wind farms, he was ignored.
By publicly opposing the Robbins Island development, Dr Brown has unleashed a decade of pent-up frustrations of nature lovers who fear industrial-scale projects are transforming rural Australia for the worse.
Dr Brown yesterday defended his fight against the wind farm proposal, which he compared to the Franklin Dam. The Hong Kong-based UPC Renewables Robbins Island and Jim's Plain Renewable Energy Parks project will be one of the world's biggest renewable ­energy developments.
It will include up to 200 wind towers, each stretching 270m from the ground to rotor tip.
Electricity generated from the project will be exported to the mainland via a new interconnector as part of the "battery for the ­nation" project supported by the federal government.
To get to the interconnector, electricity from the wind and associated solar farms must travel through some of the most spectacular scenery in the region.
The project is also located in a significant area for raptors and ­migratory birds. UPC said it had been conducting eagle surveys, with white-bellied sea eagles and Tasmanian wedge-tailed eagles nesting on Robbins Island.
The company said there would be a 1km exclusion zone around each nest
Dr Brown shocked many with his public protests against the ­development because of its visual impacts and the threat the massive windmills pose to birdlife. "I'm a big supporter of renewable energy and energy efficiency but this massive wind farm goes too far," he said. "It's comparable to the Franklin Dam for hydro-energy … you have to look to the environmental, economic and social consequences of this wind farm."
Dr Brown said as well as the environmental impacts, he was concerned profits from the project "will not go to Tasmanians, but to the multinational building it".
Emissions Reduction Minister Angus Taylor yesterday said: "This is a classic case of Greens' hypocrisy. The Greens love nothing more than to lecture Australians about their preferred source of energy generation, but when it's in Bob Brown's backyard, wind farms are suddenly a bad idea."
Tasmanian Liberal senator Eric Abetz ridiculed Dr Brown's protests. "Consistency, integrity and facts are the three ingredients regularly missing from Bob Brown's advocacy," Senator Abetz said.
"And if he still believes in his slogan of 'think globally, act locally', the fact that the energy produced from the Robbins Island wind farm would be exported from Tasmania is irrelevant."
https://www.theaustralian.com.au/nation/politics/greens-exposed-as-bob-brown-baulks-at-turbines-in-his-backyard/news-story/04b617906ce5e77e3a13dd4ddef0ddd0
---
Truth of renewables is plain for all to see.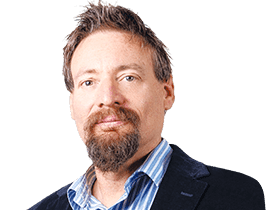 GRAHAM LLOYD
JULY 16, 2019-The Australian
As city slickers have urged governments to pursue bigger and faster renewable energy targets, the impact has largely been taking place out of sight and out of mind.
Bob Brown's alarm at the proposed Robbins Island development may be a sign that reality finally is starting to bite. On paper, emissions-free electricity from renewables is great.
In reality, it often means the transformation of once quiet and scenic rural areas into industrial zones with visual impacts and ­potentially hidden perils.
Complaints about wind farms in particular have been widespread and are not confined to Australia.
New onshore wind-farm dev­elopments are effectively banned over large parts of Europe.
In Australia, complaints have been persistent enough for a federal Senate inquiry to be held and for a wind-farm commissioner to be appointed.
Not everyone is happy but the wind-farm commissioner says the number of complaints is ­falling.
Many, however, are forgoing bureaucracy and have elected to seek their remedy in the courts.
Class actions over noise complaints and rural lifestyle interference could soon become a growth industry.
But as renewable energy investment has stalled elsewhere, in Australia it has gathered pace in scale and geographic spread.
The new breed of wind-farm developments are quite different to the early ventures. For Robbins Island, the wind-farm towers and blades will stretch 270m into the air. Not long ago, 100m was considered big.
As the size of turbines has increased, the developments have moved away from what once was promised to be community scale.
All of the electricity generated at Robbins Island will be transported to the mainland.
Plans are afoot for projects that will supply electricity from Australia to Asia.
Other developments envisage bottling solar and wind energy as hydrogen for export.
Dr Brown finally seems to have realised that wind farms can be industrial facilities more interested in making money than saving the world. And the impact they have is not always benign.
Dr Brown is right to fear the impact massive wind-farm projects can have on birds, particularly shore birds and raptors.
He is correct to question whether the interruption to rural landscapes can easily be justified.
A project has got big enough and close enough that a father of conservation, Dr Brown, can no longer ignore it.
If Australia is preparing to ­debate the merits of emissions-free nuclear energy, the reality of renewables is the foundation on which it must be built.
---
Crusader Brown Turns Against Wind Farm.
July 15, 2019
Graham Lloyd, Environment Editor-The Australian
Former Greens leader and veteran activist Bob Brown is campaigning to stop a $1.6 billion wind farm development in Tasmania because it will spoil the view and kill birds.
The proposed Robbins Island wind farm in Tasmania's northwest will be one of the world's biggest, with up to 200 towers measuring 270m high from ground to blade tip.
If it goes ahead, electricity from the Robbins Island project will be sent to the mainland via a new ­undersea cable to help make Tasmania a "battery for the nation".
But in a letter to local media and on his foundation's website, Dr Brown has slammed the project, which he said had echoes of earlier attempts to build skyscrapers in Hobart which were stopped by protests.
Despite the criticisms levelled at former prime minister Tony Abbott and treasurer Joe Hockey for describing wind turbines as "ugly", Dr Brown said the Robbins Island plan was, visually, a step too far. "Mariners will see this hairbrush of tall towers from 50km out to sea and elevated landlubbers will see it, like it or not, from greater distances on land," Dr Brown said. "Its eye-catchiness will divert from every coastal scene on the western Bass Strait coastline."
Dr Brown, who fought against Queensland's Adani coal mine, said the world needed renewable energy to replace fossil fuels, and fast, but the Robbins Island wind farm "is an aileron too far".
He said the public had not been properly informed of the private deals, or public impacts or cost-benefit analyses (economic, social, cultural and environmental) of what would be one of the biggest wind farm projects on Earth. He said details of the arrangements between the Hammond family, which farmed wagyu beef and owned the land, and developer UPC Renewables were not known. "Tasmanians have a right to know much more about the Robbins Island development," Dr Brown said. "It is a huge resource extraction venture which will be lighting up no Tasmanian homes."
Dr Brown's opposition is shared by some locals, including the Nietta Action Group, which is fighting both the wind farm and a transmission line.

Meaghan Flannery, Amarlie Crowden and Darren Gibson of the Nietta Action Group are fighting plans for a transmission line over Leven Canyon. Picture: Chris Crerar
Members of the Nietta Action Group told The Australian last month that natural values would be destroyed if the planned transmission line across Leven Canyon went ahead. Others have raised concerns about whether a walled causeway to the island, as part of the project, would interrupt tidal flows, damaging the vital sandflat ecosystems.
However, Anton Rohner, chief executive of UPC Renewables, and the Hammond wagyu beef farming family, last month told The Australian expert modelling suggested several bridge sections in the causeway would avoid ­adverse impacts.
"We are cattle people; we love the environment," said Alex Hammond. "Part of our brand, which sells our beef around the world, is that we are in the cleanest, greenest area in the world.
"So we certainly don't want to do anything to impact on that." Dr Brown sparked anger in central Queensland during the election campaign when he led a convoy of anti-coal activists to coalmining towns in protest against the Adani coalmine. The intervention was credited by some pundits with driving voters away from Labor and to the ­Coalition in the May 18 election.
In his letter on the wind farm, Dr Brown wrote: "Besides the impact on the coastal scenery, wind turbines kill birds. Wedge-tailed eagle and white-bellied sea eagles nest and hunt on the island. Swift parrots and orange-bellied parrots traverse the island on their migrations."
He listed the multiple species of international migratory, endangered and critically endangered shorebirds that used the wetlands for six months of the year. They included Australian fairy tern, fork-tailed swift, little tern, white-throated needletail, ruddy turnstone, sharp-tailed sandpiper, sanderling, red knot, curlew sandpiper, red-necked stint, great knot, double-banded plover, greater sand plover, lesser sand plover, Latham's snipe, bar-tailed godwit, eastern curlew, whimbrel, golden plover, grey plover, grey-tailed tattler, common greenshank, terek sandpiper, hooded plover.
"For which of these species will the wind farm be the thousandth cut?" Dr Brown asked.
He said the transmission lines for the wind farm were planned to cut through wild and scenic Tasmania, including the northeast Tarkine forests, to link up with a new export cable beneath Bass Strait. "In the name of private ­enterprise, why not UPC build its own cable under the Strait from Robbins Island straight to wherever," Dr Brown said.
UPC said the project was ­located close to the Australian Energy Market Operator's (AEMO) proposed second interconnector between Tasmania and Victoria.
"Once built, it will complement the Prime Minister's recently announced strategy for Tasmanian wind and hydro systems to act as southeast Australia's renewable energy battery," the company said. The project faces local and federal regulatory hurdles and unrest about the citing of both the Robbins Island wind farms and the transmission line. Dr Brown said Tasmania already had more than enough electricity to meet its own needs and UPC was a multinational corporation with projects in China, The Philippines and Indonesia.
"Beyond the indisputable environmental losses, what is the guaranteed money this giant venture is returning to the state of Tasmania as against UPC's foreign stakeholders?'' he asked.
---