'A true original': Former DLP senator John Madigan dies, aged 53
https://www.smh.com.au/politics/federal/a-true-original-former-dlp-senator-john-madigan-dies-aged-53-20200616-p5535j.html
John Madigan, a Ballarat blacksmith who led the Democratic Labour Party out of the wilderness in 2010 by winning its first Senate seat in three decades, has died after a two-year battle with cancer.
Former prime minister Tony Abbott led tributes to the 53-year-old who died on Tuesday morning at a palliative care home near his home in Hepburn Springs, north-west of Melbourne, with his family by his side.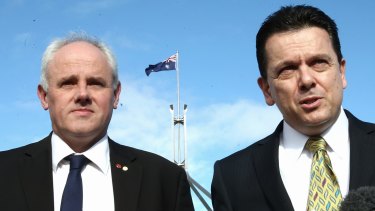 Mr Abbott called Madigan a "very decent man" with an "old-fashioned sense of courtesy and respect for others".
"John Madigan was a fine representative of a worthy political tradition. The DLP sought to be the Labor Party at its best: strong on Australian values and determined to get working men and women a fair go," he said on social media.
Madigan won the sixth and last Victorian Senate seat at the 2010 federal election, taking office on July 1, 2011, as the first DLP senator since Frank McManus and Jack Little were both defeated at the 1974 double-dissolution election.
He quit the party in 2014 amid fierce internal bickering and started his own manufacturing and farming party but failed to retain his seat at the 2016 double-dissolution election.
John Madigan was a fine representative of a worthy political tradition. The DLP sought to be the Labor Party at its best: strong on Australian values and determined to get working men and women a fair go.
In 2013 Madigan rejected a $44,000 pay rise handed to federal parliamentarians and instead started his own grants scheme to promote Australian manufacturing and farming, mainly to small businesses and schools in regional Victoria and suburban Melbourne.
He announced in a 2018 Christmas message he was fighting bowel and liver cancer and was "forever grateful" for the care from the nurses, surgeons and medical staff at the Ballarat Base Hospital.
"He was a generous and compassionate man who gave his life to the greater good and had great faith in the people of Australia," his family said in a statement.
"He was incredibly grateful and honoured to have received such immense support from many communities.
"He considered his time in Parliament a privilege and he sought always to discharge his duty to all Victorians, regardless of their political persuasion and found the ability to give the voiceless a voice an honour."
Madigan was a strong advocate for refugee protection conventions, voting against the Coalition's temporary protection visas, and campaigned for West Papuan independence, gambling reforms and against foreign ownership and wind turbines.
Former senate colleague Nick Xenophon, who remained in close contact with Madigan after pair left Parliament, said he was "genuinely sad" about his friend's death.
"He was a man of enormous integrity … a true original," Mr Xenophon said.
"He was genuinely passionate about Australian-made industries and jobs and was talking about it long before it was fashionable.
"In an era of career politicians he was the absolute antithesis of a career politician. He had a fantastic BS detector."
Despite an acrimonious exit from the party, where he used parliamentary privilege to accuse a person employed in his office of a systematic campaign to damage the party, he was earlier this year welcomed back and made an honorary member.
The anti-communist DLP was formed out of the split in the Labor Party in the 1950s arising from disputes over the infiltration of trade unions.
DLP federal secretary Stephen Campbell, who worked as Madigan's chief of staff, said his former boss never felt he belonged in Canberra.
"He didn't feel he deserved to be in the Senate, but in fact he was one of the best representatives the Australian people could have asked for," Mr Campbell said.
"He wasn't a confident public speaker but he was an honest, decent man who would never compromise a principle."
He is survived by his wife Teresa and two children, Lucy and Jack.
---
John Madigan was a voice in Parliament for the everyday person, he stood up and fairly represented many causes, including the plight of those suffering from detrimental wind farm noise impacts and abuses.  His work on behalf of the people was honourable and deeply appreciated by many.~DeFrock.
Link to John Madigan's funeral video on YouTube;
---