'For our children and grandchildren': Hundreds fight TransGrid's transmission line
18th August, 2020
By Hannah Sparks, About regional.
'For our children and grandchildren': Hundreds fight TransGrid's transmission line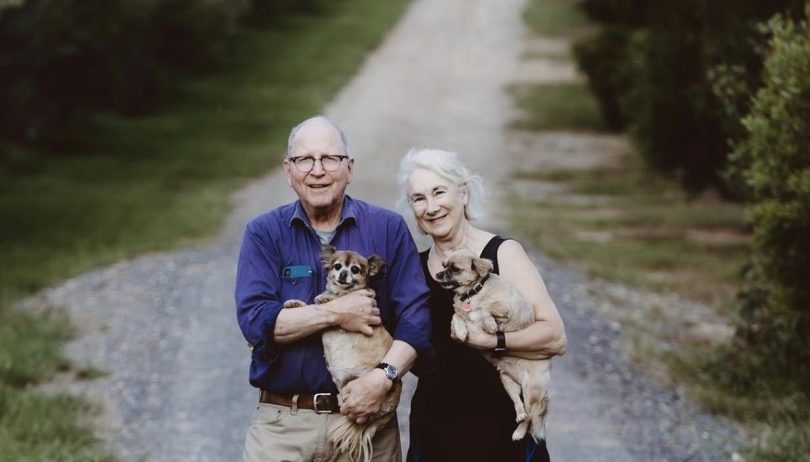 Charley Barber and Rosemary Howe long imagined their Bannister property, on which they bred and trained horses for years, would eventually be their retirement fund.
However, TransGrid's plan to build HumeLink, a 70-metre high transmission line from Wagga Wagga to Bannaby, has put their future and the futures of about 600 other landholders on hold.
So far, four groups have formed to represent the concerned landholders in Bannister; Yaven Creek, Lower Bago and Willigobung Creek; Adjungbilly to Batlow; and Kyeamba Valley.
The groups align on a handful of major issues relating to the project, including how they have been consulted; the route identified for the 500 kilovolts transmission line; the impact on prime agricultural land; fair compensation; and the need for a peer review of technical information provided by TransGrid.
Mr Barber and Ms Howe created the Resist HumeLink group on behalf of Bannister residents after finding out about the project from a neighbour. They are frustrated by the information received via letter and phone calls with TransGrid and believe proper consultation should include face-to-face meetings.
"I made it quite clear to them that I didn't consider it consultation until they come onto my property and have a face-to-face meeting with me, look at my land and speak about where they propose the line," said Mr Barber.
A TransGrid spokesperson said the company is committed to providing information in person and through correspondence. They said TransGrid has had contact with landholders on 2600 occasions via letter, email and phone calls and has offered online meetings since COVID-19 restrictions were introduced.
However, Mr Barber said he believes TransGrid is using COVID-19 as an excuse not to meet with landholders in person.
"We have offered to meet them outdoors and at a distance," he said.
Like most Bannister village residents, all 106 acres of Mr Barber's property falls into the preliminary transmission line corridor. His house, which is due to go on the market soon, will look directly at the transmission line no matter where it falls in the corridor.
"Before receiving [the letter from TransGrid] Charley had signed the contract with the real estate agent," said Ms Howe. "Now we don't know what to tell our prospective purchasers."
At this stage, TransGrid has identified a 1km corridor that will eventually be 200m in size once finalised through community consultation. Environmental surveying will start in late 2020 and early 2021.
A document informed by the four groups and presented to NSW Parliament by Wagga Wagga MP Dr Joe McGirr said the proposed corridor is "causing a great deal of stress and anxiety [to landholders] adding to the pressures of drought, bushfires and COVID-19".
The Yaven Creek and Lower Bago group said HumeLink had the potential to kill off its farming community.
"This will drive people to reconsider farming in this valley as the risks and costs will be too great," said the group in the document.
TransGrid said HumeLink would transfer electricity from southern NSW, including Snowy Hydro 2.0, and connect to renewables including wind farms. HumeLink will also connect substations at Wagga Wagga, Bannaby and Maragle.
However, some landholders believe the transmission line is predominantly for Snowy Hydro 2.0.
"Gullen Range Wind Farm is the largest in NSW and produces 165.5 megawatts of power; Gullen Solar Farm produces 10MW, and the Capital Wind Farm at Lake George produces 141MW," said Mr Barber. "Snowy Hydro 2.0 produces 350,000MW – that's what this is all about."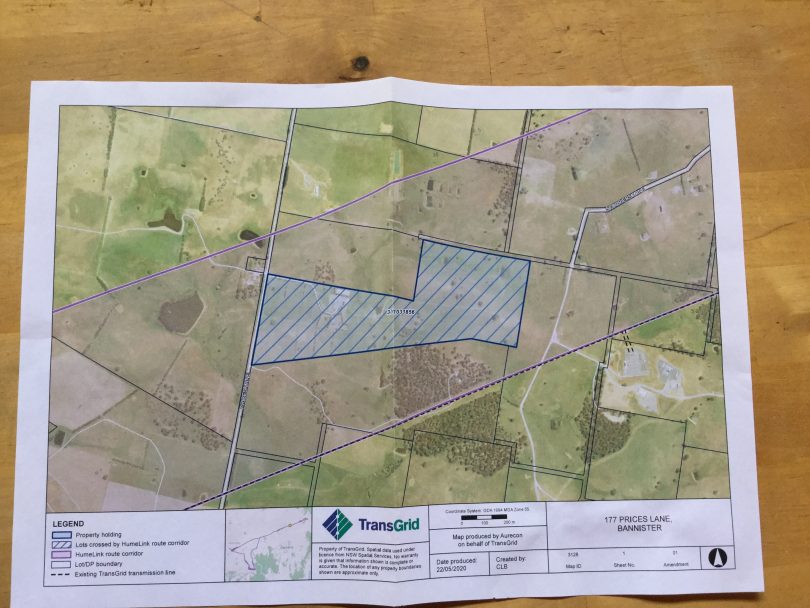 Map of Charley Barber's property at Bannister showing the preliminary transmission line corridor. Photo: Supplied.
Sydney-based solicitor Marylouise Potts is fighting for the rights of Bannister, Yaven Creek and Tumut landholders to suggest alternative routes to TransGrid.
"(It's) something TransGrid has to do under the planning approval process," she said. "It also has to justify why it has rejected alternate routes. I think there are some very good alternate routes."
The Concerned Landholders of the Kyeamba Valley group wants TransGrid to consider moving the transmission line underground.
The Resist HumeLink Bannister group wants TransGrid to run the transmission line away from their village.
"We are aware that if we push it out of our backyard it will go into someone else's, but there is some rough country it could run through here that wouldn't impact prime agricultural land," said Ms Howe.
The Adjungbilly to Batlow HumeLink Action Group said it will join the other groups to fight "as one strong community" for alternatives to be considered.
"Shoulder to shoulder, unified and together to protect what generations before us have created and to leave a safe, sustainable legacy for our children and grandchildren," said the group.
Subject to approvals, construction of HumeLink is due to commence in 2022.
---
HumeLink Project Action Group
Join the action group here; https://ms-my.facebook.com/groups/303358017513043/