Global green energy hub in WA knocked back over toxic 'dead zone' risk
21st June, 2021
By Emma Young, The Sydney Morning Herald
Source: https://www.smh.com.au/environment/conservation/global-green-energy-hub-in-wa-knocked-back-over-toxic-dead-zone-risk-20210621-p582w8.html
Renewable energy advocates have criticised the federal government's rejection of one of the world's most ambitious green energy projects in north-west Western Australia, despite potentially catastrophic impacts for a globally significant wetland if the project proceeds in its current form.
The $US36 billion Asian Renewable Energy Hub in the Pilbara region, halfway between tourist drawcard Broome and the mining town of Port Hedland, is one of the country's first renewable energy projects of comparable scale to a fossil fuel development.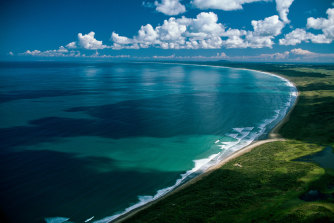 The hub plans a field of 1700 turbines interspersed with solar arrays 26 kilometres from Eighty Mile Beach and 13 kilometres from Mandora Marsh, both listed Ramsar wetlands, the global classification system for significant wetlands used by conservation-significant international and local migratory birds that congregate in the hundreds of thousands.
It's the largest area of continuous intertidal mudflats in Australia's Ramsar estate, and is considered a biodiversity refuge for arid Australia; and it's known more as a place for grey nomads to bird-watch from their campervans en route to Broome, rather than for the mega-projects more typically associated with Port Hedland to the south.
The hub first planned to create energy to extract hydrogen from water then run it via subsea cable to South East Asia.
The workforce was to be fly-in, fly-out, the seabed disturbance minimal; an above and below-ground transmission cable corridor would carry the energy to the coast where four subsea cables would run through the marine park. The biggest environmental impact was to be the clearing of about 12,000 hectares of native vegetation.
But in November 2020, significant amendments were lodged adding a huge amount of infrastructure to use the renewable energy to extract hydrogen from water, create ammonia from the hydrogen, and load it onto ships in liquid form, including new pipelines through the wetland to an offshore export platform.
The plans also added an 8000-person permanent township along with a desalination plant and ammonia production plant and almost doubled the amount of native vegetation to be cleared.
The amount of seabed disturbed was to be 345 hectares instead of the original 15 in an area home to conservation-significant species, with Eighty Mile Beach an important rookery for the vulnerable flatback turtle and green and dwarf sawfish.
The company had realised the project could generate more electricity than previously thought, – double what the world's largest solar farm currently produces – and the undersea cables planned constrained the project's potential scale and its end market. There was also a significant risk to the cables from earthquakes.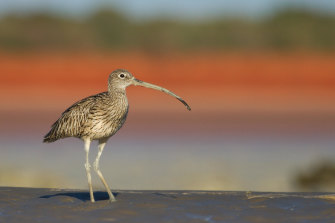 Federal Environment Minister Sussan Ley noted in her reasons for refusal a "continuous spill risk" of highly toxic ammonia around the platform that would create a "dead zone" in waters known to home rare turtles, sawfish, whales and dolphins, and a high risk of a catastrophic spill that would completely destroy an internationally significant wetland, with the proponent having no risk mitigation plan.
The region's huge tides exposed up to four kilometres of mudflats at low tide, Ms Ley wrote, and this uninterrupted tidal flow was key to the wetland's ecology.
She also noted a high risk of pipeline failure and while this was not an issue with the original proposal for flexible electricity cables, the pipelines would now be carrying a toxic mix of ammonia and brine.
There was also a "continuous spill risk" from an estimated 250 ship fills a year, and while these would be smaller in volume than a catastrophic spill, advice given indicated the regular spills would result in local toxicity and a "dead zone" surrounding the export platform.
"Given the importance to the environment of reducing dependence on fossil fuels, I would have expected more interest by the federal agency to work through the issue … we will be seeking further clarification."

WA Hydrogen Industry Minister Alannah MacTiernan
The proponent had not given any spill mitigation or management plans, despite the potential for an ammonia spill to completely destroy the wetland.
Ms Ley concluded the plans, including the proposed town for 8000 people, would have unacceptable impacts on matters of national environmental significance, including on the wetland and migratory birds dependent on the site as an entry/exit to Australia including internationally significant species such as the great and red knots, and the eastern curlew.
Her decision throws the ball back into the proponent's court to redesign the proposal, but clean energy could be a major growth industry for Australia, and the swift rejection drew criticism from the Australasian Centre for Corporate Responsibility.
The centre's climate and environment director Dan Gocher characterised it as the federal government being unwilling to support projects that would accelerate the transition from fossil fuels.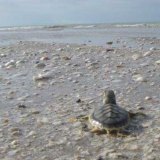 "If the government is to be taken seriously on developing a hydrogen economy, companies prioritising genuinely zero-emissions projects should be assisted to reach a final investment decision," he said.
"The federal government is all too willing to fast-track coal and gas projects, including throwing billions of taxpayer dollars at subsidies for exploration, infrastructure for new gas basins and unproven carbon capture and storage.
"While the [hub] proponent should address concerns raised about Ramsar wetlands and threatened species, the minister appears to have reached this decision with little consultation with the consortium."
A spokesman for the consortium – Hong Kong green hydrogen player InterContinental Energy, renewables developer CWP Energy Asia, wind turbine maker Vestas and Macquarie Group's Pathway Investments – said they were working to understand the minister's concerns, and would engage further with her and her department as they continued to work on detailed design and engineering.
He said the project represented a significant economic and clean energy opportunity for Australia, confirmed by the Commonwealth's conferral of Major Project Status last October.
"The project developers intend to utilise the Pilbara's world-class solar and wind power to produce hydrogen and derivatives for export to major Asian markets already committed to quickly decarbonise their economies, and to offer options for greening mining activities and adding value to mineral resources produced in the Pilbara," he said.
Western Australia's Hydrogen Industry Minister Alannah MacTiernan said this was a "surprising decision made in a very short timeframe with seemingly little engagement with the proponent".
She said managing environmental impacts of large-scale projects was extremely important, but it was disappointing that in this case, the proponent did not appear to have been given an opportunity to refine the project or respond to concerns.
"Given the importance to the environment of reducing dependence on fossil fuels, I would have expected more interest by the federal agency to work through the issue," she said.
"We will be seeking further clarification from the federal government on their position on this matter.
"Renewable hydrogen presents enormous opportunities for our country, as a job-creating future industry and to decarbonise the world's economy.
"If the federal government is serious about this opportunity, it needs to work cooperatively with industry and state governments to progress major projects."